Plainview High School
Class Of 1964
In Memory
Bill Murphy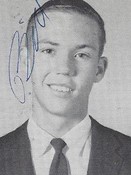 Charlie William Murphy, III
August 15, 1946 - January 16, 2013
Charlie (Bill) William Murphy III died peacefully on January 16, 2013. Charlie is survived by his loving wife of 47 years, Linda Murphy; 2 brothers, Denzel and Larry; 2 sons and their spouses, Todd and Chad; daughter Melissa, and 6 grandchildren. He was preceded in death by his parents Charlie and Faye Murphy.

Bill was an inspiration to those around and was a man who had big dreams and who accomplished big dreams during his life. He left the farm lifestyle behind in the panhandle, but never left behind the values encompassed of a small town farm family.

Bill battled with golf throughout his life, loved to be on the boat and on the water with his family, and was always in awe of God's creation. Alaska and Colorado were two of the places he loved to experience life and to do what he loved to do most; hunt and fish.

Whether he was building an aviary, perfecting the art of growing the perfect tomato, or smoking brisket on the outdoor kitchen he built, there was always a project going that needed to be completed. There was never a minute wasted or never a corner cut in his quest for perfection.

Bill embraced the blessing of being a grandfather, father, and husband. He took the opportunity to make positive, meaningful, and timeless impacts on all. He will be dearly missed and God bless his soul.