Plainview High School
Class Of 1964
In Memory
Travis Shannon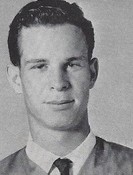 Travis W. Shannon
Posted: Tuesday, December 16, 2008
Travis W. Shannon, 63, of Amarillo died Saturday, Dec. 13, 2008.
Services will be at 2 p.m. Wednesday in Boxwell Brothers Funeral Directors Ivy Chapel, 2800 Paramount Blvd., with Carolyn Gable, minister, and L.D. Burney officiating. Burial will be in Memory Gardens Cemetery.
Mr. Shannon was born July 30, 1945, in Plainview to Pearl and Elbert Shannon. He had been a minister and touched thousands with his love, as well as being a nationally known Agri Publisher.
His life mission was to recruit warriors for the Lord. He will be missed by many.
Survivors include two daughters, Lynetta Trisler of Amarillo and Dynette Shannon of Borger; a son, Trevor Shannon of Amarillo; a brother, Forrest Shannon of Lubbock; 14 grandchildren; and 14 great-grandchildren.
The family will gather for a luncheon from 11 a.m. to 1 p.m. Wednesday at Freewill Baptist Church, 2501 S. Vernon St.