Plainview High School
Class Of 1964
In Memory
Jim Moore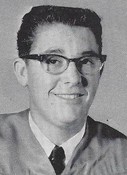 Jim Moore
Jim Moore died in Lexington, Kentucky, on October 20, 2001, from complications of diabetes.
After high school Jim attended Texas Tech. Following college, he managed many Church's Fried Chicken and Mr. Gatti's Pizza franchises that took him all over the country (Ruidoso, NM; Chicago, IL; Baton Rouge, LA; St. Louis, MO; Toronto, Canada; and San Antonio, TX). Later, Jim purchased his own Mr. Gatti's franchises in Lexington, Kentucky and Hopkinsville, Kentucky. He even ventured into the horse business at one point to the delight of friends that viewed him as the ultimate Texan.
He was father to one daughter, Jeni, with his 1st and 3rd wife, Cheryl (Whitaker) Moore. He had one son, Jason, and a step-daughter, Lara, with 2nd wife, Dana "Pebble" (Purcell) Moore Borremans. He often visited his parents, Horace & Betty Moore, in San Marcos where they managed Quail Creek Country Club for over three decades. Jim always remained close with his baby sister, Judy Jan (Moore) Reinagel.
Jim was a gentleman's man on the golf course, a ladies' man on the dance floor, and forever the life of any party. He always wore cologne, never had an untucked shirt, constantly gave a helping hand, and spoke fondly of Plainview. Jim loved tinkering with gadgets, restoring classic cars, appreciating rock-and-roll and blues music, and going to the movies.
Jim Moore: generous, exuberant, loyal, kind, and always larger than life. In his fifty-five years he was a star that burned twice as bright for half as long.
Jim and his sister, Judy: