Plainview High School
Class Of 1964
In Memory
Lynette King (Yarbrough)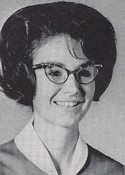 Lynnette Yarbrough
Posted: Thursday, April 27, 2006
PLAINVIEW - Lynnette Yarbrough, 59, died Wednesday, April 26, 2006, in Lubbock.
Services will be at 2 p.m. Friday in Garland Street Church of Christ with Weldon Melton, elder, officiating. Burial will follow in Plainview Memorial Park by Bartley Funeral Home.
Mrs. Yarbrough was born June 19, 1946, in Vernon to Olen and Geneva King. She married Larry Yarbrough on May 31, 1964, in Plainview.
Survivors include a son, Kelly Yarbrough of Plainview; three daughters, Kristi Richardson of Amarillo and Kayna Cardy and Karla Crawford, both of Plainview; her mother of Belton; two sisters, Irene Martin and Linda Watson, both of Belton; and 11 grandchildren.
Amarillo Globe-News, April 27, 2006