Plainview High School
Class Of 1964
In Memory
Landa Egger (Loe)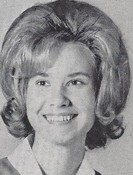 Star-Telegram Wednesday July 2, 2003
Landa C. Loe, 56, passed away into Christ's hands Saturday, June 28, 2003, at a Dallas hospital. She joined her loving husband, Lanny R. Loe, of 35 years, who passed away last year also from cancer.
Funeral: 10 am Thursday at First Baptist Church of Keller. Burial: Greenwood Memorial Park
Memorials: Leukemia and Lymphona Society, 12850 Spurling, Suite 200, Dallas, Texas 75230
Landa C. Egger-Loe was born October 16, 1946 in Lamesa. She was a devoted mother, grandmother and a kind, caring friend to many. She was also a dedicated educator of high school English for 20 years. Landa loved being outdoors camping and gardening and her dog, Shammy.
Our special thanks to First Baptist Church of Keller and the Baylor oncology staff at Dallas Baylor Medical Center.
Survivors: Daughters, April Suzanne Yoder and husband, Todd of Littleton, Colo., Christy Kidd and husband, Brannon of Saginaw, Allison Loe and fiancé, Art Benjamin of Houston; grandchildren, Kaitlyn and Koby Kidd; mother, Virdie Hodnett Egger of Plainview, brother, Vernon Egger and wife, Mary of Statesboro Ga.; sister, Katherine Egger of Plainview; brother, Alton Egger and wife, Nancy of Nolan; and several nieces and nephews.